Margit Anna Süss plays the complete Impromptus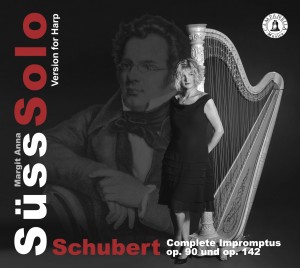 Magical Schubert on the harp
Hansjörg Schellenberger has already brought out several rare and delightful miniatures on his label Campanella Musica. But the latest release in his small, select catalogue is devoted to a musical experiment that ventures on to entirely new territory.
The famous harpist Margit Anna Süss has, after extensive preparation, recorded the two sets of four Impromptus from the last years of Schubert's life on her own instrument, and seeks with this world premiere to add a potential enrichment to the repertoire. It does demand a high degree of technical expertise and musical mastery – particularly because Margit-Anna Süß has decided not to "arrange" these eight perfect examples of early romantic piano music but to take them over on to the harp in their original form.
This artistic feat succeeds because Margit Anna Süss works with a special technique of intermediately damping each string, without which their free vibrations would flow into each other like the colours of an Emil Nolde painting, but without creating similar aesthetic effects in tonal music. Thanks to her special approach she achieves very convincing results: clear, transparent voice-leading and distinctly audible articulations produce from the silvery tones of the plucked instrument an atmosphere that is not far removed from that of many an historic piano, and – for example in the A flat Impromptu op.90 no. 4 – takes the final arpeggio back, with the greatest delicacy, to its exact origin.
Margit Anna Süss
Solo – Version for Harp – Schubert
Complete Impromptus
op. 90 and op. 142
Campanella Musica C130205
released 26.2.2016
www.campanella-musica.de
(Distribution D/A/CH: SONY MUSIC,
international: NAXOS)
Download: Cover
Download artist photo: Margit Anna Süss, Foto Gerhard Winkler
Further information: www.campanella-musica.de
or  www.margit-anna-suess.de